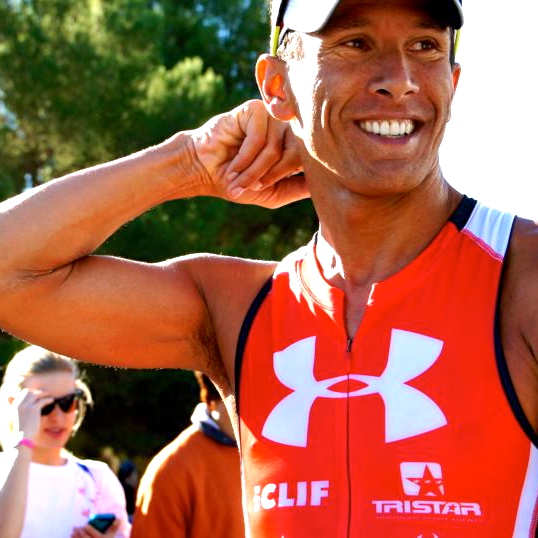 Stephen, Bernard and I asked world famous triathlete Chris McCormack if he would be willing to try a new product, knowing he had just turned down the "Got Milk" campaign, we knew if he didn't really believe in the product he wouldn't take it. As the most celebrated triathlete in history it was a long shot that Chris would be willing to test out something new, changing a calculated nutrition regime that took years and decades to establish would be risky. We asked, he agreed, and hopped on a plane back to Australia with a few boxes in tow. Not sure if we would ever hear from him again we were surprised that over the course of the next three months we received exciting, positive feedback. Not only did he feel great, his blood and urine tests reported that he was retaining his vitamins and minerals extremely well.
In one of the first detailed emails we received, Chris stated the following: "I am very impressed with what you guys have. Very impressed. You have ticked all the right boxes and as a product in sport this has many legs. I absolutely love the citrus flavor; I have to admit I love the convenience and ease of use. I am enjoying it very much across many spectrums as an athlete." As weeks and months progressed he was so impressed with how he felt and what the product did for his performance that he dumped his is old supplement program exclusively for Pür Pak. The Q & A below is from a recent interview, it describes best how Macca and Pür Pak "organically" came to be.
1. How did you come to try Pür Pak?
My introduction to Pür Pak was really as organic as the product itself. Basing primarily out of L.A. when I am in the USA, my network of coaching support directed me to a product that was developed by two people I know very well and have immense respect for in the sense that they are not marketing driven people. They are performance driven individuals and were looking at creating a vitamin and mineral supplement and delivery system that actually works and was not just an expensive toilet stop! I began using it and got actively involved in the development side of things myself as I was looking to tweak things for my performance. As we were at the cold face, this was easier to do.
2. What does it do for you?
For me it is my complete supplementation program in a simple easy to use packet. It ensures that I can continue to train at the highest level and absorb the workloads I am doing. There is nothing new about vitamin and mineral supplementation. I think the great thing about Pür Pak is its delivery system. The powdered version ensures that greater quantities are absorbed and the quality of the ingredients selected is pharmaceutical grade so I feel the effects immediately. Endurance training creates a lot of anti-oxidants and generates huge amounts of muscle break down and fatigue. Pür Pak ensures I continue to provide my body with the things it needs to allow me to remain consistent in my training. This is the key to success at any level.
3. What do you love about it?
 The ease of use and the quality! It is far superior to anything else on the market.
4. What does it do for your training and performance?
I think I have answered this above, but on a training foundation it enables me to get back up day after day with the confidence that I am feeding my body with what it needs to continue to improve. Training and racing is a stressful thing on the body so Pür Pak is like an insurance policy I have so that I can continue to push and the improvement demands will be met naturally. I feed my body with everything it needs to improve. This in itself is performance. Performance is directly correlated to preparation. Without Pür Pak my preparation is not as good as it can be!
5. How does it fit in your life?
It is my morning go-to drink. It fits into my life very easily. I find the high quality of the product means I am simply a morning user and then on the heavy days I will tap into the product again on a late afternoon drop. It is far superior quality to anything I have ever used; so many people may find this a bit unsettling in the beginning as you can feel the difference upon use.
Join Macca by being a Pür Pak enthusiast!